ZR Rubber Refill for Aero Flat Wipers
Rubber Refill for Aero Flat Wipers
---
- Top grade natural rubber wiper refills
- Teflon and SPSN with Graphite coating by REFRESH TTD Technology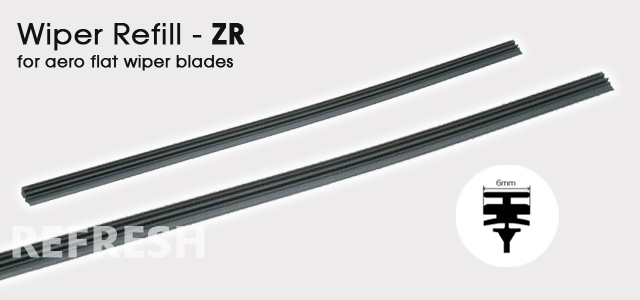 Please contact us for more details of wiper blades range and car application lists.
.

---
As one of the most professional wiper blade manufacturer in China, we have been in this filed for over 15 years. REFRESH is ISO9001 quality accredited, the REFRESH production is all about quality, with the latest technology, superior material and experienced staff, we are dedicated to produce premium wiper blades to our customers.
The complete wiper blades range include flat AERO wiper blades,OE exact fit wiper blades, multi adaptors wiper blades, hybrid wiper blades, metal frame wiper blades, truck & bus heavy duty wiper blades, snow wiper blades, rear wiper blades and rear wiper arms with blades. The products range is still growing.....
REFRESH wiper blades passed SAE-J903, REACH and XPQSI test etc.
Many famous brands of wiper blades are produced by REFRESH.
Private Label for your brand is also welcomed.